---
---
Eric Phelps, DDS, MS
Dr. Eric Phelps is a proud graduate of Leigh High School in San Jose. He was blessed with an engineering education at Cal Poly, San Luis Obispo, and, after graduating summa cum laude, he had the honor of attending the UCLA School of Dentistry as a UC Regent Scholar. Dr. Phelps earned a Master's Degree in Oral Biology with an emphasis on bone cell research while concurrently earning his Doctor of Dental Surgery degree. He then completed the UCLA Orthodontic Residency while furthering his Master's Degree research. Dr. Phelps has thousands of hours of continuing education, training, and study with an emphasis on craniofacial development, temporomandibular disorders, chronic facial pain, airway obstruction, and sleep-related breathing disorders.
Areas of Interest
Smile Esthetics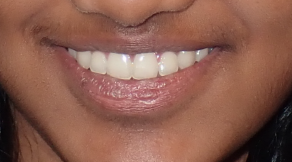 Dr. Phelps strives to achieve optimal smile esthetics for every patient. To achieve this, he focuses not only on tooth alignment but also the following: vertical position of teeth in the smile (also referred to as smile arc), width of the smile, and whether or not the front teeth are in the right position in the face in the anterior/posterior perspective. The image shows a finished case with ideal arch width and smile arc.
Midface Anatomy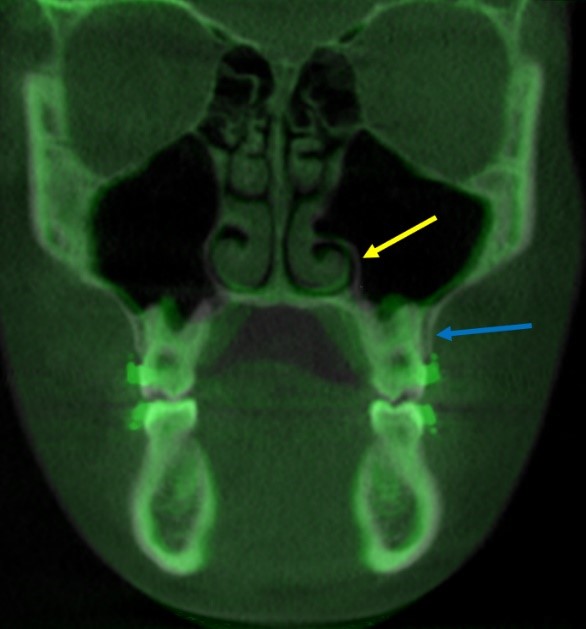 Dr. Phelps uses iCAT 3-D imaging to analyze the anatomical improvements created by orthodontics and dentofacial orthopedics. For example, maxillary expansion not only creates space for teeth to avoid bicuspid extraction, but the expansion often improves the volume of the nasal and pharyngeal airways. Dr. Phelps studies pre and post treatment functional breathing data from sleep studies and rhinomanometry to evaluate how the increased airway volume translates to improved airway function. The image shows expansion of the maxilla (blue arrow) from pretreatment (green) to posttreatment (grey) with expansion of the nasal passage as shown near the inferior turbinates (yellow arrow).
Far Reaching Effects of Sleep-Related Breathing Disorders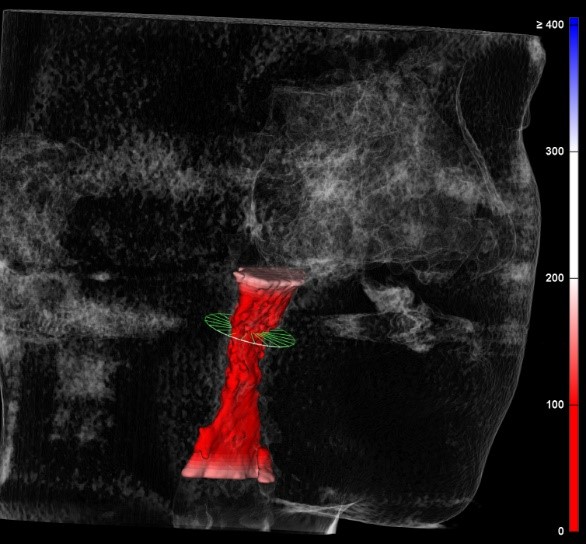 Research shows that ADHD, anxiety, depression, headaches and many more symptoms/syndromes are often associated with airway obstruction and sleep-related breathing disorders (SRBDs). For a comprehensive list please follow this link to a table from an excellent 2005 publication by Dr. Christian Guilleminault: Pediatric Sleep Apnea Syndrome. The 2017 Policy Statement put forth by the American Dental Association highlights the importance of screening patients for SRBDs. You can find the statement here: The Role of Dentistry in Sleep-Related Breathing Disorders. Dr. Phelps collaborates with physicians to bridge the gap between dentistry and medicine as we take a holistic approach to helping patients enhance their quality of life. The image shows a rendering of a narrow pharyngeal airway.
Airway Obstruction, Temporomandibular Joint Dysfunction (TMD), and Chronic Pain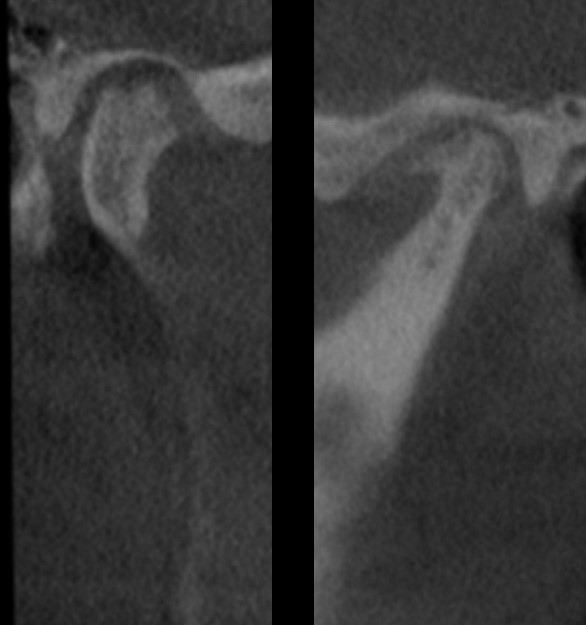 Dr. Phelps treats patients with airway obstruction, TMD, and chronic pain at Nor Cal Airway. Dr. Phelps started Nor Cal Airway to help patients like himself; he was diagnosed with severe sleep apnea in 2018. With his personal medical history and what he learns from caring for patients with airway obstruction (which often leads to TMD and chronic pain), Dr. Phelps collaborates with sleep physicians and otolaryngologists (ear, nose, and throat physicians—ENTs), when indicated, to assist patients in achieving optimal airway health and function. The jaw joint images show osteoarthritis of both condyles. For this patient, the degenerative joints resulted in limited opening and chronic pain, especially when chewing. This patient was successfully treated with joint decompression.
Outside the Office
Dr. Phelps and his wife Suzanne enjoy visiting the Central Coast (SLO and Pismo Beach) to relax by the ocean and visit their boy/girl twins who are students at Cal Poly. The Phelps family are passionate about supporting FIRST (Foundation for Ichthyosis and Related Skin Types) after the loss of their son, Dane Christian, in 2008, to a novel form of ichthyosis.
Commitment to Education
Dr. Phelps lectures nationally on topics that include orthodontics, dentofacial orthopedics, midface anatomy, airway health, and sleep apnea.
Previous Speaking Engagements:
Damon Forum: Phoenix, Arizona
Fort Study Club: Fort Wayne, Indiana
3rd Annual Pediatric Airway Symposium: San Jose, California (Host)
UCLA Orthodontic Residency: Los Angeles, California
Ormco Forum: Palm Desert, California
Dolphin User's Meeting: Austin, Texas
American Academy of Craniofacial Pain
San Joaquin Dental Society
Berkeley Dental Society
4th Annual Pediatric Airway Symposium: Philadelphia, Pennsylvania
Future Speaking Engagements:
North Central Dental Society: South Bend, Indiana
American Academy of Dental Sleep Medicine: Dallas, Texas
5th Annual Pediatric Airway Symposium: South Bend, Indiana
Diplomate
American Board of Orthodontics
American Board of Dental Sleep Medicine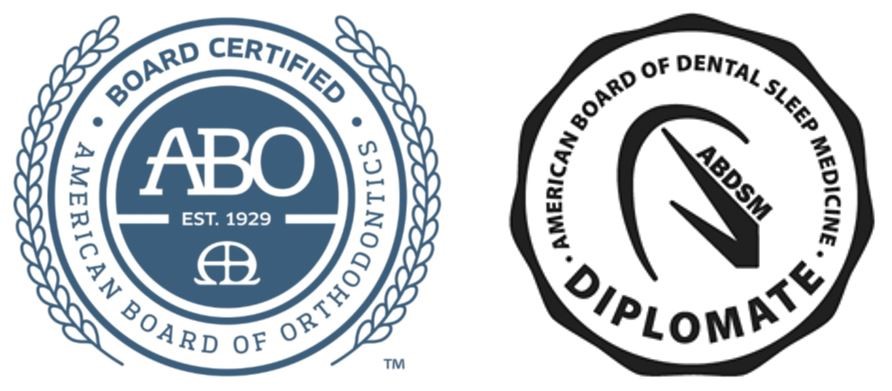 Memberships
Nor Cal Airway Study Club (Founder)
American Association of Orthodontics
American Academy of Dental Sleep Medicine
American Dental Association
California Dental Association
Santa Clara County Dental Society
Jason Cohen, DDS, MS
Dr. Jason Cohen was raised in Princeton, New Jersey and graduated summa cum laude with a Bachelor of Science in mechanical engineering from Tufts University. After working as a software engineer, he traveled to California to attend dental school at the University of California Los Angeles. He received his orthodontic specialty training at the University of California San Francisco.
Dr. Cohen is a published author on topics relating to digital radiography and early detection of disease through computer modeling of trabecular bone. His most recent publication appeared in the August 2005 edition of the American Journal of Orthodontics.
Outside the Office
Dr. Cohen is an avid sports fan and a former collegiate tennis player. He spends his free time exercising, playing golf and tennis, and relaxing with his family.
Memberships
American Dental Association
American Association of Orthodontists
California Dental Association
Santa Clara County Dental Society
Puja Patel, DDS, MS
Dr. Puja Patel was born in India and grew up in Tampa, Florida. She went on to become a Gator, studying Microbiology and Chemistry at the University of Florida during its prime years in both football and basketball. Go Gators! She then traveled across country to obtain her dental degree at the University of California, Los Angeles and back across to Pennsylvania for additional clinical training in a General Practice Residency at the Philadelphia VA Medical Center.
Dr. Patel practiced general dentistry for four years on the east coast, during which she developed interest in performing orthodontic treatment. In order to offer her patients the highest quality of care, Dr. Patel returned to school for orthodontic specialty training at the Oregon Health and Science University in Portland, Oregon. Her masters research compared changes in tooth angulation during treatment with braces versus Invisalign clear aligners. Dr. Patel is Board Certified and a Diplomate of the American Board of Orthodontics.
Area of Interest
Dr. Patel takes special interest in treating interdisciplinary cases. The adult dentition can undergo changes due to various reasons (i.e. performance of dental treatment, natural drifting of teeth, parafunctional habits, compromised periodontium, postural habits, and underlying health conditions). Having a background in practicing general dentistry, Dr. Patel understands the nuances of these factors and appreciates the collaboration required with other dentists and/or specialists to treat patients comprehensively.
Outside The Office
After years of living in different parts of the country, Dr. Patel is thrilled to settle in the Bay Area near her family. When she is not baking with her niece or playing board games with her nephew, you'll find her hiking, traveling, or trying out a virtual dance class. She also loves exploring restaurants and is open to recommendations!
Van Tran, DMD, MSD (Board Certified)
Dr. Tran was born in Vietnam and immigrated to southern California when she was in grade school. Her family relocated to Colorado during her high school years and she received her Bachelor of Science Degree at the University of Colorado at Denver. Dr. Tran decided to venture out and chose to attend University of Nevada Las Vegas for her dental degree. While at UNLV, Dr. Tran conducted research that was published in the Journal of Cancer Science & Therapy. She returned to Colorado for her Orthodontic specialty training at the University of Colorado and received her Master's Degree with research on the investigation of polymeric orthodontic aligners.
Areas of Interest
Dr. Tran will be assessing the skeletal transverse dimension (arch width) using 3-D imaging. Arch width is important for many reasons. For example, if a patient has severe crowding and narrow arch width, we can often avoid extraction of teeth by broadening the arches. For patients with breathing issues such as sleep apnea, broadening the arches could contribute to a better airway.
Outside The Office
Dr. Tran loves to spend her time off with her husband trying new restaurants. She is fluent in Vietnamese and enjoys cooking, drawing, snowboarding, and traveling.
Joy Chang, DDS, MS (Board Certified)
Dr. Chang was born in Walnut Creek and spent her childhood growing up in Hong Kong and Taiwan. She graduated from the Johns Hopkins Whiting School of Engineering with a B.S. in Chemical and Biomolecular Engineering and completed a 1-year program at the National Institutes of Health under the Cancer Research Training Award, where her research on synthetic biology was published in Science and in Genetics. Transitioning from her work in chemical engineering, Dr. Chang obtained her Doctor of Dental Surgery degree from the University of California, San Francisco (UCSF) and her specialty training Orthodontics and Master's Degree in Dental Sciences at the University of Connecticut. During her residency, Dr. Chang is the recipient of several prestigious awards from the American Association of Orthodontist Foundation and Northeastern Society of Orthodontist for her extensive research on acceleration in orthodontic tooth movement.
Dr. Chang has also received the Harry Sicher award and presented at the American Association of Orthodontists (AAO) in 2019. She is also Board Certified and a Diplomate of the American Board of Orthodontics
Areas of Interest
Expanding the dental arch width is an important therapy in orthodontics for correction of narrow arches, alleviating crowding, and increasing airway volume. Dr. Chang is interested in different modalities of achieving dental arch expansion such as the maxillary skeletal expander, which is a new, minimally-invasive technology that allows expansion of the palate that would otherwise require surgery to correct.
Outside The Office
After spending several years on the East Coast, Dr Chang is thrilled to be back in the Golden State! Dr. Chang loves to travel and explore new destinations with her husband in their free time. She also enjoys exploring new music, brunching, hosting dinners, yoga, and spending time with her family.
Amelia Stoker, DMD, MS
Dr Stoker was born in Salt Lake City, Utah.  She received her Bachelor of Science Degree at the University of Utah in Salt Lake City and then moved to Portland, Oregon to complete both her dental degree and orthodontic specialty training at Oregon Health & Science University.  During her orthodontic specialty training, Dr Stoker conducted research that was published in the American Journal of Orthodontics and Dentofacial Orthopedics.  She is Board Certified and a Diplomate of the American Board of Orthodontics.
Areas of Interest
Dr Stoker is interested in treating patients of all ages.  The pediatric population is fun for her and she values treatment that can be done at a young age that can change the course of these patients' jaw growth and development.  She also loves treating adolescents and adults as the changes that can be made to function and appearance can be life changing for these patients.  Surgical cases and sleep apnea/airway cases Dr Stoker is especially passionate about as she had trouble breathing herself and surgery to correct it.  She loves talking with patients about their treatment options and helping them to understand the option that is best for them to achieve a healthy, beautiful and confident smile.
Outside The Office
Dr Stoker is "Stoked" to be living in the Bay Area after relocating to be near her in-laws.  Family is very important so any evenings or weekends are spent with the nuclear or extended family.  Activities usually include cooking, hiking, walks with the dogs or house projects with her husband.