What is palatal expansion?
Palatal expansion is the preliminary treatment for a narrow maxilla, or roof of the mouth. It is used to re-establish balance between the width of the upper and lower jaws. It is also known as maxillary expansion.
Indications
To correct a posterior crossbite. Sometimes the upper jaw is too narrow in comparison with the lower jaw, causing an abnormal dental relationship. This may lead to an asymmetry or deviation of the lower jaw.
To correct severe crowding. By widening the upper jaw, expansion could create space to align crowded teeth.
To widen a narrow smile. Expanding the upper jaw will also create a broader and more esthetic smile.
To increase nasal airway. A narrow upper jaw may often limit the flow of air above the palate in the nasal cavity. Palatal expansion may facilitate the airflow in the nasal airway and allow patients to breathe better out through their nose
Why correct a narrow upper jaw?
This problem will not self-correct over time with growth
An abnormal width relationship between the upper and lower jaw may lead to asymmetric growth of the lower jaw
A narrow upper jaw may result in improper tooth wear, damage to the periodontium, and problems to the temporomandibular joint (TMJ)
Timing of palatal expansion
Palatal expansion should be attempted at a young age because midpalatal suture maturation occurs in teenage years, making expansion unpredictable or impossible. Correction of an improper jaw width relationship should also occur as early as possible to prevent negative effects on growth of the lower jaw.
Modalities of palatal expansion
Rapid Palatal Expansion (RPE)

RPE is an orthopedic tool to normalize the width of the upper jaw in young patients who are not skeletally mature.

Maxillary Skeletal Expansion (MSE)

MSE is a novel, minimally invasive technology which allows for expansion of the upper jaw in patients who are skeletally mature and not normally not candidates for non-surgical palatal expansion.

Surgically-Assisted Rapid Palatal Expansion (SARPE)

SARPE is indicated in very severe discrepancies in skeletally mature adults.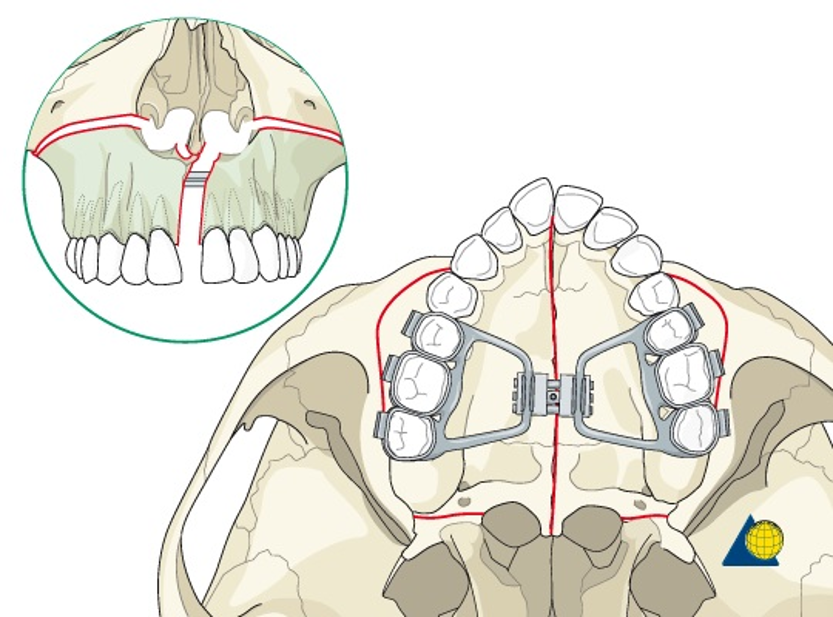 Find out more about our orthodontic services by requesting an appointment with Phelps and Cohen Orthodontics today. Call our office at 408 298 3433 or requesting an appointment online.
Download the PDF
References: